Where did February go?
Hello Stitchers!
I'm not really sure what happened to February, but I blinked, and it was gone! I hope you all had a great month and are ready to head into Spring and sunshine. As usual, there is lots going on at the shop and I hope we will see all of you soon, especially now that the weather is headed in a better direction (fingers crossed anyway).

I'll be heading to our Spring Needlepoint Market this month (3/19-3/21) so keep your eyes out for lots of new designs to come into the shop. If there is anything you would like me to pick-up, please shoot me an email. debk2728@stitchersgardenil.com

And if you don't already: follow us on Instagram or Facebook for the most up-to-date news. You can find us at @stitchersgardenil
MARCH TRUNK SHOWS:
Blueberry Point:
Fruit, Flowers, and Eggs Galore
And the most fabulous "12 Days of Christmas" you have ever seen! (I really think you could leave it out all year if you wanted - it's just that awesome!)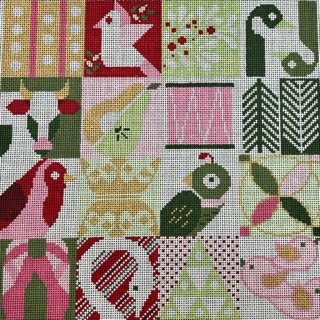 Kimberly Ann Needlepoint:
(or handbags here we come)
And so many cute ornaments: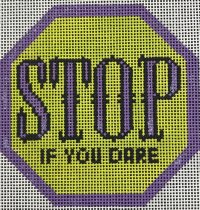 Raymond Crawford: Arriving a little later this month (next week to be exact), and fabulous as always. Here's a sampling of what we have in stock and on the website.


All in-stock trunk show canvases and special orders will receive a 20% discount while we are hosting the designer.
CLASSES: Lots and lots of opportunities to learn!
Mini Sessions with Linda Corrirossi
Are you stuck on a canvas, but don't know what to do with it? Need to get past basketweave or continental? Just want to up your skill level? This is the perfect class for you. Bring in your canvas and Linda will help you elevate it to the next level. And you will get to take advantage of what your fellow students learn as well.
Dates: April 6, April 20
May 4 and May 18
June 1, June 15, June 29
July 6 and July 20
August 3, August 17 and August 31
Time: 10am-12pm or 1pm-3pm
Cost: $30
Round Ornament Finishing with Kelly Starke
Have you always wondered about finishing your own needlepoint ornaments? We've got a couple of spots left in our morning class with Kelly, designer and finisher extraordinaire!
Date: April 29, 2023
Time: 9:30am-1pm
Cost: $100
3 Days with Linda
Need a little something extra for a canvas? Have a new canvas you want to start? Join us for a 3-day class to bring your canvas to life. Canvases need to be in the shop by March 15th. Each class includes the first 5 pages of your stitch concept (there is an additional charge for pages 6+).
If
you're
wondering what ideas you might get, check out my piece below from my times as a student. And yes, I have done some more work on this piece, but you will need to stop in to see it!
Date: May 19 - May 21, 2023
Time: 10am-4pm
Cost: $300 (includes lunch and first 5 pages of individual stitch concept)
June: My friend

Heidi from NDLPT designs and owner of Chapparral in Dallas, Texas
July:
Intermediate Needlepoint with Kris
October:
Stephanie Chase from The Joy of Needlepoint-
Canvas embellishment and "Meet and Greet" - Thursday afternoon and evening.
The "Christmas Dangle" - Friday
The "Choose" series created by Lauren Bloch. Select any of the "Choose" designs and apply the stitch guide to them - Saturday morning.
And last but definitely not least:
Our annual

"Enhance Your Stash Sale"

starts March 3 - March 20.

Use Code march2023 to receive 23% off all in-stock canvases including trunk shows. Spend over $200 and the shipping is on us. Special orders and sale canvases not included. Reward certificates cannot be combined with discount code.
I hope this note has brought a little bit of brightness to your day!
Until next time, Deb