Skip Navigation
Website Accessibility
Happy Holidays
Hello Stitchers,
I hope the much promised and long-awaited newsletter finds you all having the best holidays this year! There's lots going on at the shop to finish out 2022 and even more planned for 2023.
Trunk Shows:
December:
Rachel Donley: featuring letters, cups and monograms
http://www.racheldonleyneedlepointdesigns.com/
Trunk Show price $72
Trunk Show price $64.80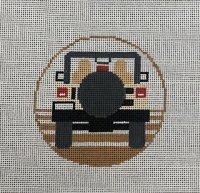 Monogram Chart included. Trunk Show price $50.40
Lauren Bloch: who has a sign for everyone
https://www.laurenblochdesigns.com/
Trunk Show price $84.80
Trunk Show price $144.80
January: Ann Wheat Pace
Stitch Style
February: Kimberly Ann Needlepoint
Carol Curtis Designs
All trunk show canvases (instock or special orders) are eligible for a 20% discount.
This brings me to our newest customer appreciation program.

Effective December 13, 2022 we are introducing our "Trunk Show Ten".

Purchase any trunk show canvas and receive 10% off your threads if you kit it up at the time of purchase. If you are shopping long distance, just let us know at the time of your order and we will contact you to get your preferences.
2023 CLASSES:
Beginner Needlepoint with Kris:
Want to brush up on your basic basketweave skills and learn some new embellishment stitches to bring your work to the next lever? This is the perfect class to help you accomplish your stitching goals. You will learn a variety of stitches including Cashmere, Brick, Mosaic, Smyrna Cross and Byzantine as well as proper basket weave technique.
Dates: January 21 and February 18, 2023: 10:30am-12:30pm
Cost $80 - includes line drawn canvas, threads, stretcher bars and needle (Please bring your own embroidery scissors)
Maximum 8 students
Please call the shop to register. 630-946-6216
Finishing 101 - 4" round or simple shape:
Kelly Starke from Starke Art will be teaching an ornament finishing class for round ornaments.
Dates: April 28, 2023 - 9:30am-1:00pm
a pm session will be added if needed
Cost $100
Students will learn to finish a cookie style ornament along with how to make and attach cording.
Students supply a blocked ornament, 2 options of backing fabric, and 2 skeins of perle cotton for cording
Please call the shop to register - 630/946-6216
3-Day Embellishment with Linda Corirossi:
Dates: May 19 - May21, 2023 - 10:am - 4pm (Friday and Saturday) 10am-3pm (Sunday)
Cost: $300 (includes lunch)
We will be hosting Linda Corirossi for 3 days of personalized canvas embellishment. You pick the canvas, and she will write a stitch concept to bring your design to life. A thread kit will be pulled for your and whether you are a beginner or advanced stitcher you will learn lots of new stitches, tips and tricks. Canvas selections must be at Stitchers Garden no later than March 1, 2023
Please call the shop to register and discuss your canvase selection. 630-946-6216
Stay tuned for more details on these two additional clases:
June: 2 days of Canvas embellishment with Jill Rigoli June 9 - 10, 2023
October: Stephanie Chase @thejoyofneedlepoint will be hosting 3 project classes October 6 and October 7, 2023
I hope you all have a fabulous holiday season and get lots of time to stitch. We have a couple of shortened hours in the next few weeks.
December 13-17: 10am - 5pm
December 20-23: 10am-5pm
December 24: Closed
December 27- 30: 10am-5pm
December 31: 10am-3pm
Remember our website is always open and if you want to shop in your pj's no one will mind!
Until next time, Deb