Where did all the time go!
Hello Stitchers!
The much awaited, much promised newsletter is finally getting written. I feel like the "days are long, but the years are short" seems to be
my motto
lately, except sometimes the days seem extra short too!
So,
let's
get down to business!
July Trunk Shows:
Penny MacLeod through July 21st: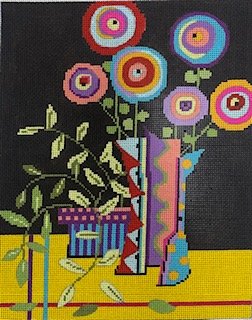 As always all in-stock and
special-order
trunk show canvases are eligible for a 20% off. Take a look at her website and let us know if we can check our stock or place an order.
https://thecollectiondesigns.com/penny-macleod.html

Sundance Embellishments through July 31st. Hex beads, fab flowers, drop beads, pearls,
gemstone
beads, rhinestones and so much more:
August 2022: Susan Roberts Designs
I can't wait to see what comes in!
https://susanrobertsneedlepoint.com/
September 2022:
Shelly Tribbey, Penny Linn and NeedleCrossings
CLASSES:
"Mini Sessions with Linda Corirossi"
Thursdays - July 14, July 28, August 11, August 25, September 8, September 22
10am- 12pm and/or 1pm-3pm
Cost: $30 per session
Join Linda for a 2-hour mini session where she will enhance your whole canvas or help you with your "Stitchers Block".
Call the shop to register 630-946-6216

" Chicago Architecture Tour on Canvas"
Come on a tour of your favorite city October 14th - 15th with Linda Corirossi. You will be exposed to all sorts of threads, learn lots of new stitches, how to compensate around angles, and to use light coverage stitches to get just the texture you need.
Date: October 14-15, 10am - 4pm
Cost: $450 - includes, teaching fee, canvas, thread kit and lunch
Please call or email the shop to register. If you would like to see the stitched piece, just stop in or email for a close-up photo. Registration and payment due September 15, 2022.
630-946-6216 or debk2728@stitchersgardenil.com
"Beginner Needlepoint with Kris"


Want to brush up on your basic basket weave skills and learn some new embellishment stitches to bring your work to the next level? This is the perfect class to do just that. You will learn a variety of stitches including Cashmere, Brick, Mosaic, Smyrna cross and Byzantine as well as proper basket weave technique. This class will help you be a better stitcher and definitely upgrade your skill level.
Date: August 20 and September 10, 2022 - 10:30am -12:30pm
Cost: $75 - includes line drawn canvas, threads, stretcher bars and needle. (Please bring your own embroidery scissors)
Maximum 6 students
Please call the shop to register by August 18. 630-946-6216
"Blooming Flower Ribbon Work"
Are you intrigued by ribbon work or just plain nervous? This sweet little piece is your chance to conquer your fears and learn to use ribbon to embellish your canvas.
Date: September 24, 2022
Cost: $140 - includes canvas, threads, chenille needle, and stretcher bars. Please bring your own embroidery scissors
Maximum 6 students
Please call the shop to register by September 20. 630-946-6216
And last but not least!!!!!!!!
"Christmas in July" starts tomorrow July 13 - July 25. All in stock Christmas and Hannukah canvases are 25% off. And to really make this about the gift giving season, for each "sale" Christmas canvas you purchase you can pick out a "non-Christmas" canvas of your choice for 20%. In my house we call this "To Me, From Me, Love Me". One Christmas gift/canvas for you, one canvas for me! Two Christmas canvases at 25% off gets you two extra canvases at 20% off. And to sweeten the deal, we will be offering free shipping July 13th - 15th (take that Amazon Prime Day). Here's just a few of my favorite Christmas beauties:
$57

/ $42.75

$86

/ $64.50

$155

/ $116.25
$87

/ $65.25

$79

/ $59.25

$130

/ $97.50
And do I have some favorite in stock canvases? Of course!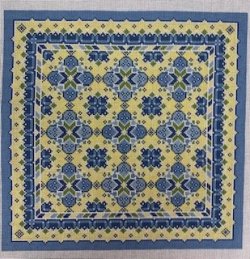 Can't make it
into
the shop, you can still take advantage of the sale. Just call or email and we will take care of your order. Please make sure to include all the necessary information in your email: phone, address, name, and canvas design name and we will get back to you as soon as
possible (
I love my POS system, but this is just too many coupon codes for it so old school it is!)
630-946-
6216 or
debk2728@stitchersgardenil.com
Until next time - keep on stitching!
Deb