Where did the month of May go??????
Hello Stitchers!
I hope this check-in finds you all well and getting lots of stitching time. It's been a crazy, busy time for me with a mom-daughter trip to Nebraska, Mother's Day and a college graduation all within the last month. And in another week, I will be going back to Lincoln to move my oldest home for the next part of her journey. I can hardly believe my baby girl is a college graduate - time really does fly when you are having fun.

The shop is busy with two fabulous trunk shows this month. We are hosting

Anne Fisher

who is one of my favorite 13 mesh designers. I just cannot get enough of her eyeglass cases and clutches! And let's not forget the backgammon boards!
$40.80 each
$76.00 each
$344.80
And if you are feeling adventurous, you can stitch matching dice cups!
She also represents a couple of great artists as well - you know I can't pass up a design that includes a lemon!
Trunk show price $144
Make sure to check out her website and email or call if you find your next "perfect" canvas.
https://www.annefisherneedlepoint.com/
NeedleDeeva is also at the shop thru the end of May. The best way to describe these beauties is "color, color, color"! There are so many fabulous designs I'm not really even sure where to start! Every season, theme and series is covered and many designs come on both 13 and 18 mesh. Here are some of my favorites:
$103.20 on 18 mesh
$116 on 13 mesh
$105.60 and lots of little Easter bunnies to stitch with it.
Snowmen ranging from $66.40 to $68.80

$116 (and yes there is a whole gingerbread family that lives here)
And lots and lots of Whirligigs sold individually for $46.40 or in a group for $162.40
For the complete line, check the website and call if you would like us to check our stock.
http://chrislewisdistributing.com/NeedleDeeva_Canvas_Collection.htm
As always, our trunk show canvases are eligible for a 20% discount.
June: KCN Designers https://kcndesigners.com/
July: Penny MacLeod http://www.thecollectiondesigns.com/penny-macleod.html
Sundance Designs Embellishments
August: Susan Roberts https://susanrobertsneedlepoint.com/



We are still receiving designs from our trip to the Atlanta market so make sure you check out the "New Arrivals" section of the website.
https://www.stitchersgardenil.com/shop/New-Arrivals.htm
$86
$86
$138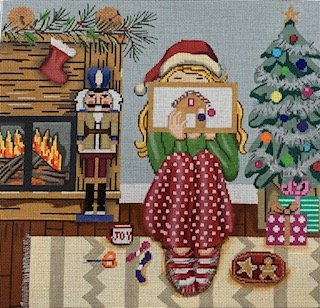 $185
$74 each



The "Sale is on Sale" sale starts tomorrow, May 21st. All "sale" canvases are eligible for an extra 25% off thru May 31st. Please use the code below if you are purchasing via the website.





may25



This discount cannot be combined with reward certificates. If you would like us to pull threads at a 10% discount for your new treasure, please leave us note and we will get back to you.

I hope to see all of you in the near future. The World seems to have gone a bit crazy lately and politics seems to be invading all aspects of our lives. One of the things I love most about the shop is everyone's ability to put their own opinions to the side and embrace the common thread that binds us all - our love of needlepoint.

Until next time, Deb