How is it already October!
Hello Stitchers!
I cannot believe that is is already October 2nd!!!!!! I am really unsure what happened in September, but it sure did seem to fly right by. It might have had something to do with my birthday and my husband's rotator cuff surgery, but who knows??????
We've got lots of things going on in the shop right now and believe it or not, we are still getting in new canvases from our virtual market in May. Some days it's like Christmas!
And don't get me started on Rachel Donley's new Holiday Cup line! I don't know which one to start with first:
Make sure to check out the "New Arrivals" section of our "Shop Online" tab on our website for everything that's come in in the last few months.
https://www.stitchersgardenil.com/shop/New-Arrivals.htm
TRUNK SHOWS:
October:

Sew Much Fun

- We have hit a bit of a snafu with our trunk show, and thanks to the postal service our in-store trunk show will now be virtual.

What does this mean for you all, it means you can shop the Sew Much Fun website to your hearts content and then call us with your order. We will be taking a deposit and when your treasure arrives you will receive 20% off the price.

What I love most about this line is that a stitch guide is included with each of the designs. Here are some of my favorites: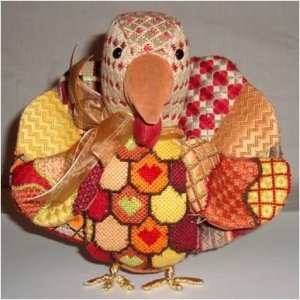 Big or small, the designs are fabulous and cover so many different themes. Make sure to check out Randi's website and let us know what you just can't live with out.
http://www.sewmuchfun.ca/
We will also be hosting

Pink Petals

starting

October 8th

. Lots of signs, tons of ornaments and super fun designs. I pinky promise an addendum to the newsletter as soon as it arrives!
Lastly, you can still enjoy our Painters Thread trunk show until

October 9th

. The 40 different colorways are gorgeous and there is literally a thread that will work for any project. Don't be surprised if some of them will be staying so you can enjoy them all the time - 4mm ribbon, 7mm ribbon, and braided rayon (think Neon Rays in an overdye) just to name a few.
NOVEMBER:
Danji Designs
https://www.danjidesigns.com/
Beau Verre Art fused glass needle minders
We've got several available on our website, but expect some new designs during the trunk show!
https://www.stitchersgardenil.com/shop/Stitching-Tools/Needle-Minders.htm
DECEMBER:
The Plum Stitchery
https://www.theplumstitchery.com/

Pepperberry
http://www.pepperberry-designs.com/

2022 is coming sooner than we know, and we've got a great lineup for next year too. If there is anyone you would like to see us host, please reach out via email and let us know.
In other big news, Patty and I are planning on attending our first in person Market in two years the first week of November. I am so excited to see all my shop friends and bring back new canvases (that you don't have to wait for) that I can hardly contain my excitement. Watch out for an email asking for your requests later this month.

Also, expect to see details on our 4 year Anniversary sale. It seems hard to believe it will be 4 years on November 4th. It's been a great ride and I can't wait to see what the next year brings.

Take some time for yourself and get some stitching done! Until next time (later this month, I promise), Deb