Skip Navigation
Website Accessibility
Happy April!
Hello Stitchers!
I hope you are all feeling good and still taking time to work on your projects as the world is slowly returning to some semblance of "normal". As many of you know my own life as been a little bit on the crazy side with family stuff, but I am still trying to make sure I manage to make a little bit of progress on something every day. A late night finish at the request of my husband is off to the framer today.
This should give you an idea of how things are rolling at my house!
Funda Scully

has arrived and I cannot express how much I love her hinged boxes. There is truly something for everyone and you can find your next treasure until April 22nd.
$150 on sale for

$120
$150 on sale for

$120
$150 on sale for

$120
$118 on sale for

$94.40
All in stock and ordered canvases will receive a 20% discount. Check out her website and let us know if you fine one that is perfect for you.

https://fundascully.com/

May Trunk Show

- Painted Pony Angels, Kirkland Design Studio Needleminders
June Trunk show

- Princess & Me, 3K Designs
The "What's on Sale" Sale:
Starting today 4/13/21 through 5/4/21 all our sale canvases will receive an extra 20% off. Have us pull the threads for your new treasure, and you will receive 10% off the threads also. Discounts do not apply to previous purchases, but who doesn't love a good bargain! I have a couple of favorites myself:
Canvas $92
Canvas $72
Canvas $45
Canvas $32
Sale $285
Sale $101
https://www.stitchersgardenil.com/shop/Sale-Sale-Sale.htm


Christmas Finishing Deadline:

In other news, we have found an additional finisher for the shop. Many of you were hopeful for an extended finishing date and the good news is WE DO! Our new deadline for Christmas finishing is July15th. There is always a chance that it could change, but you will now have an extra 5 weeks to get your projects in. Her work is beautiful and she will also embroider onto you backing fabric if desired. A large batch has already been sent in and I can't wait to see what comes back to the shop!
Class with Linda:

Are you stuck with a particular area of your canvas? Think about taking our "Canvas Embellishment with Linda" class. We host Linda Corirossi every other Thursday for two different sessions. Choose 10am-12pm, 1pm-3pm or both. $30 per session. Call the shop to reserve your space. 630-946-6216
Dates: April 15, April 29, May 13, May 27, June 10, June 24, July 8, July 22, August 5, August 19


I hope you are all enjoying the sunny weather. If you need a new project please make sure you check the website, Facebook, Instagram or just pop in for a visit. We are getting new canvases daily. I'd like to introduce Lauren Bloch one of our newest designers. She's the queen of signs and anyone who knows me, knows I love a good sign. Check out her website for what's coming soon. https://www.laurenblochdesigns.com/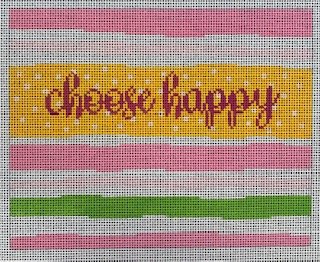 We will be receiving more of her designs in the next couple of weeks so make sure to check back.

Hitting the magnet board this weeks are also new fused glass needleminders from Beau Verre Art. They are FABULOUS!!!!!! and available on our website.

https://www.stitchersgardenil.com/shop/Stitching-Tools/Needle-Minders.htm




I hope to see you all soon! Until next time,
Deb