Skip Navigation
Website Accessibility
Hello Spring!
Hello Stitchers!

I hope this letter finds you all doing well and looking forward to a fabulous Spring. February waved hello with a vengeance and then kept on going!!!!! We've got lots going on in the shop and I hope to get you all caught up.

Lots of new canvases have arrived this month and I of course have tons of new favorites:
$109 on 13 mesh
$111 on 13 mesh

$232 on 18 mesh
$185 on 13 mesh

$77 on 18 mesh
$132 on 18 mesh
$107 on 13 mesh
$89 on 18 mesh
As many of you know the needlepoint world is still being seriously affected by the shipping industry, so I am thankful each time we receive an order from any of our vendors. If you see something fabulous, please don't hesitate to reach out. I am happy to find out a potential eta for you. Market is also coming up in May. It will be virtual, just like the fall market, but I am looking forward to seeing what new treasures my favorite artists are coming up with. As I have more information I will pass it on.
TRUNK SHOWS:
March brings in

Judi and Co.

The designs range from modern, Caribbean, fashion and everything in between. But they all have one thing in common - COLOR! Make sure to checkout her website and give the shop a call. All in stock canvases and orders are an additional 20% off.
https://judiandconeedlepoint.com/
We are also celebrating

Tina Griffin Designs

this month. She is most well known for her perfectly painted frames and fun embellishments. That zig zag design is calling my name!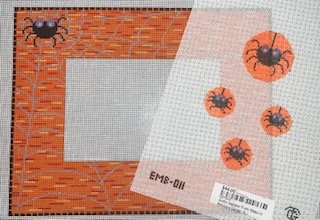 She also loves a good bit of irony when it comes to her coasters too:
and so much more.
http://www.tinagriffindesigns.com/

Upcoming:
April:

Funda Scully
https://fundascully.com/


May:

Painted Pony Angels
http://paintedponyneedlepoint.com/designs.htm
Kirkland Design Studio Needle minders
June:

Princess and Me
https://www.princessandme.com/
3K Designs
July:

Birds of a Feather
http://www.flocktogether.com/


CLASSES:
I'm so excited to announce that

Linda Corirossi is coming back!!!

If you are suffering from "Stitchers Block" and need some help to move forward Linda is the teacher for you. Class info is as follows:
Dates:

Thursday - March18, April 1, April 15, April 29, May 13, May 27, June 10, June 24
AM session:

10am-12pm
PM session:

1pm - 3pm
Cost:

$30 per session
There is no limit to how many canvases you can ask for advice on or you can stick with one design for your entire visit. Please call the shop to register and I hope we will see you soon.

630-946-6216
We also still have a couple of spots left in our

"3 Days of Embellishment with Linda"

scheduled May 14-16, 2021.

The deadline to turn in your canvas has been extended to Saturday, March 13th.

This is a fabulous opportunity to focus on a single canvas and receive a full stitch guide.
Cost: $250 - includes 3 days of instruction, first 5 pages of your personal stitch guide and lunch.
Dates: May 14-May 16, 10am-4pm
FINISHING:
A big topic on everyone's mind these days is getting your pieces back in time for Christmas.

Our current deadline for Christmas delivery is June 1, 2021.

We are blessed to have so many stitching more than ever which is making our finishers busier than ever. Please be patient as they are working as fast as they can. We currently work with 3 regular finishers who get boxes monthly from us right now. The moral of the story is this - stitch fast and turn in early!
I hope you are all doing well and continue to keep on needlepointing. We have seen so many new to our favorite hobby or picking it back up after a hiatus. I love to see all the projects that have been pulled out of the closet for new threads. I really do eat, sleep and breathe needlepoint. Hope to see you all soon!
Until next time, Deb


Look what came in as I was working on the newsletter!
Princess Diana's Crown and RGB's collar. Back in stock and ready for your project. Both are $27 each and available on the website. Oh happy day!