Happy Fourth to Be
Hello Stitchers!
I hope you are all doing well and are surviving (or enjoying the heat - if that works for you). For many of us this means inside time and lots of stitching. This Saturday we will be closed to honor the 4th of July and I plan on spending it stitching! We will be open from 10am - 5pm through Friday and then back to the shop on Tuesday, July 7th with regular weekly hours.
Linda Corirossi is Back!
Are you having trouble finding the perfect stitch or just need some inspiration? Linda is returning July 9th and can get you going! You may bring one canvas or multiples and she will keep you moving along. Two sessions are available each day as follows:
July 9, 2020: 10am -12pm and/or 1pm-3pm
July 23, 2020: 10am - 12pm and/or 1pm-3pm
August 6, 2020: 10am - 12pm and/or 1pm - 3pm
August 20, 2020: 10am - 12pm and/or 1pm - 3pm
Limited to 4 students, $30 per session and so worth it! Please call the shop 630-946-6216 to reserve your space for this great opportunity to improve and progress your stitching abilities.
July Trunk Show:
We are featuring Kirk and Bradley for our trunk show this month. It will be making an entrance on July 2nd! Please call the shop if you have anything you would like us to put aside for you.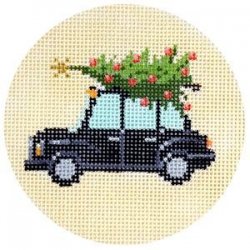 Make sure to check out their website and get in touch. https://kirkandbradley.com/pages/kirk-bradley-artist-catalog
We will also be hosting Dream House Ventures http://www.dreamhouseventures.com/ and Tango and Chocolate https://www.tangoandchocolate.com/. More pictures to come in the next email. Check out their websites and let me know if you have any requests. And as always our trunk show canvases and orders are eligible for a 20% discount.
Lots of new canvases arrived in the mail today. Here's a sneak peek of what you can find in the shop (or our New Arrivals section on the website).
I hope to see more of you in the store. It's so much fun to see what everyone has gotten done while they were working at home.
Until next time, Deb