Skip Navigation
Website Accessibility
Here's what I do all day!
Hello Stitchers,
It's been a great big thread day today. I wanted to show you all a little bit how the process works so you can see why it takes so much longer than normal.
The Whimsy & Grace "Lyric Pumpkin" took 2 phone calls, 60+ minutes on the phone and even more texted pictures than you will see here.
We are finalizing the last few colors and I will post the final choices after I get permission.
The next big thread pull you get to see is for Melissa Prince's "Blue Herons" .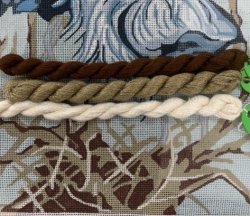 Each of these ladies is a fabulous needlepointer, but have very different design esthetics and I can't wait until their pieces are done!
On a more serious note, supplies are becoming more limited. Some of the basic colors in popular thread choices are out of stock from our vendors, as well as 18 mesh mono canvas. Illinois was just told today that we will have to continue our "shelter at home" until the end of May. Since Stitchers Garden operates an online business I can continue to come in and will do my best to keep you all in threads and canvases.

Tomorrow new online specials will be posted to give you some inspiration over the weekend. Next week is our last week to shop our virtual Alice Peterson trunk show and receive 20% off. She's got so many great canvases and I will post some more pictures tomorrow. Check out her website before it's too late. https://alicepetersoncompany.com/

As always, thank you so much for your support. I couldn't do this with out all of you! Good night for now and
talk to you all tomorrow. Deb