S - A -T- U- R day here I Come
Hello Stitchers!
I hope you all had a great week. You have all kept me very busy this week and I am looking forward to some downtime that involves a needle, some thread and a new exclusive canvas. My hope is to finish getting it stitched this weekend and to debut it on Monday. Fingers Crossed! I would also like to give all of you a great big THANK YOU! You have really kept the shop going over the last few weeks and I cannot tell you how much I appreciate it. I really am happy to help all of you whether it's a brand new canvas with threads or just a couple of fill-ins so you can finish that canvas from 2013. Thank you for your patience while having to wait for your items. Grace is starting to get the lay of the land and if you email a list with what you need she can pick it out in about 15 minutes (compared to the 35 from last week). She has been such a big help and she has a great eye for color!
Lots of new items hit the website today! They are listed under new arrivals if you want a quick peak or check out the various categories in our "Shop Online".
https://www.stitchersgardenil.com/shop/New-Arrivals.htm
"Dog with his Frisbee" from Pippin. 13 mesh,

$116
"Lemon" or "Strawberry" from KCN, 13 mesh,

$63 each

"Trees with Bow" from KCN, 18 mesh,

$56 each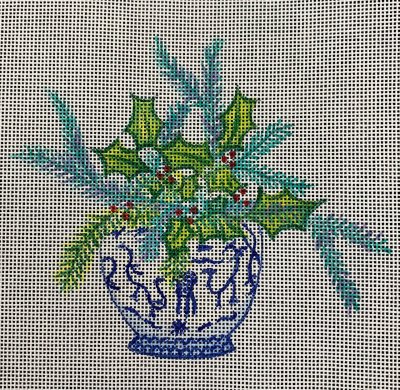 "Tulip Jar" from French Graffiti, 18 mesh,

$107
"Christmas Greenery Jar" from French Graffiti, 18 mesh,

$109
And Now for the ones to make you chuckle:
"Ho3" from & More, 18 mesh,

$56

"Make Good Choices" from KCN, 13 mesh,

$58

"Sorry, not Sorry" from Thorn Alexander, 13 mesh

$132
A New designer: Alice and Blue, "I Love You Matcha", 13 mesh,

$56
And three of my personal favorites:
"Chanel" from KCN, 13 mesh,

$47

"Elf with Buttons" from & More, 18 mesh,

$58

"Poppy" from Thorn Alexander, 13 mesh,

$143
New additions to the Online Specials Category:
"Blue Ear Pug" as shown for $

186

"Hot Cocoa" as shown for

$85



I'll be placing another order with Alice Peterson for our virtual trunk show on Monday. She's got so many beautiful designs. The feature today is "LOVE". Painted on 13 mesh, 16.25" x 6.25". Retail for $173, trunk show price

$138.40

.



Take some time this weekend to check out her website if you just need some eye candy. She's just got so many fantastic canvases. https://alicepetersoncompany.com/

Enjoy your weekend Stitchers. I'm hoping their will be some news next week as to when we can reopen for walk-in hours. I miss talking to all of you and seeing your projects. Stay safe, sane and healthy! Deb