A quick check-in!
Hello Stitchers!
I hope all of you are feeling healthy and getting lots of time to stitch. Today I received an email from The Spring Needlepoint Show that it has been postponed until sometime towards the end of April or beginning of May. Many of our designers will be posting their new merchandise on their websites so we can do some online shopping to bring you the latest and greatest! If you asked me to order an item or bring something back from market, I will be contacting you individually to find out what direction you would like me to take - hold on to your order for the actual show, order now, or pass until a later date. I will keep everyone posted on any changes as soon as I find out new information.
The shop will remain open and I am happy to help with anything you need. We are still hosting open stitching whenever we are open, but I encourage you to stay home if you feel ill. The surfaces, door knobs, tables and chairs, computer, etc. are being wiped down daily. My first concern is for the health of myself, staff and customers, and I would never want to put anyone in danger. We will be offering curbside pickup if you prefer. All our canvases are available on the website or just give us a call. If you have a private lesson scheduled and would prefer to reschedule please call the shop. 630-946-6216.
Now for some "good" stuff:
Trunk Shows:
Eye Candy Needlearts

will be available until the end of the month. Lots of great canvases, many with stitch guides. Tons of non-traditional colors for Christmas. There are just so many cute ones. All in stock canvases will receive a 20% discount. Check their website and give us a call 630-946-6216.
eyecandyneedlearts.com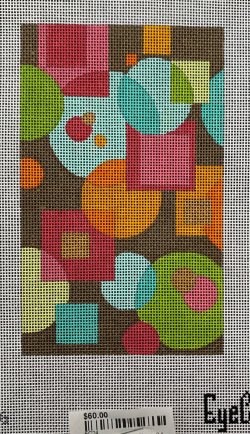 Julia's Needlework
is available until the end of March is featuring Hinged Boxes and Baskets. There are just too many cute ones (I want them all)!
All in-stock canvases will receive a 20% discount. Check the website and let us know if you find your favorite cute one too.
juliasneedleworks.com
The Pure Palette

is our first thread trunk show. We are featuring "Soy Luster", a 100% soy silk thread. Similar in coverage to Impression from The Caron Collection, a single strand gives light coverage on 18 mesh. Also, featured is "Empress Elite Blend" which is a mix of Merino, Cashmere and Silk. It is beyond luscious! dreamhouseventures.com
April brings in

Alice Peterson.
There are just too many fantastic canvases to even get started with--Christmas, fashion and so much more. Check out her website and let us know if we should request anything for you. alicepetersoncompany.com



My personal "Fashion Books are coming along quite nicely if I do say so myself. Currently I am immersed in sequins, but I'm past the halfway point!
May: Canvasworks
Labors of Love

June: Associated Talents
Oasis Needlepoint

At this time our scheduled classes are still happening. I will be sending a separate email with those details a little later next week. Plan on Linda Corirossi returning to teach her twice-monthly "Canvas Embellishment with Linda" sometime in April or May. "Finishing 101 with Edie Weileman" will also be making an appearance sometime towards the end of May. We will also be hosting a "3 Days of Personal Embellishment" with Linda towards the end of the summer. More details on that next week.
Please don't be a stranger to the shop. Seeing your show and tell in any stage is always so much fun. Stay safe and remember we will ship anywhere within the continental United States. We've got your needlepoint emergency covered.

Deb