Fun stuff in February
Hello fellow Stitchers,
I hope you are all doing well and have had lots of time to stitch during these snowy days. I just heard this morning that Las Vegas received 2" of sticking snow. I think Mother Nature is NOT happy with someone for sure! And here in Naperville we are expecting more snow and ice tomorrow. I am so ready for Spring!
If you haven't stopped in lately I hope to see you soon. We have lots of new canvases just waiting to be stitched. We did not attend the winter market in Portland, but are still reaping the benefits with lots of new items coming in daily. I will be attending the Spring Show in Orlando at the end of March so if you see anything you would like me to bring back please call the shop 630-946-6216 or send us an email. It seems that this new show will be on the same level as Dallas which means lots of new goodies and some great bargains returning with me.
Here are a a few of our newest arrivals from A Poore Girl Paints:
And this is one of my personal favorites:
We are also introducing a new designer from "The Collection". Paul Brent represents life at the shore in such a fantastic way it's hard to resist.
Trunk Shows:
February
brings Raymond Crawford to the Garden. His trains are so much fun and can be framed, finished as standups or fabulous pillows for Christmas.
There are lots of options for ornaments too:
March:
Mary Englebreit and lots of cuteness!
Check out the website
http://www.paintedponyneedlepoint.com/PPDMaryE.htm
and if there is anything you would like from the line, please let us know.
April:
A Poore Girl Paints which is one of my personal favorites. Lots of ornaments and funny signs.
May:
CBK and Rachel Donley
June
: Valerie Needlepoint Gallery
As always, all instock trunk show pieces will receive a 20% discount.
CLASSES
:
"Finishing 202 with Edie Weilemann":
April 6, 2019 10am - 3pm
Cost: $85 includes all materials required for finishing except cording. (Cording material will be purchase during class)
Do you have the perfect stitched canvas that will make a fabulous standup? Now is your chance to learn another technique. Students will learn to finish their canvas into a weighted standup. Pieces cannot exceed 5" x 7" . Previous participation in "Finishing 101" is required. Call the store to register. 630-946-6216
"Canvas Embellishment with Linda Corirossi"

May 9, 2019 10am- 12pm and/or 1pm-3pm
May 23, 2019 10am-12pm and/or 1pm-3pm
June 6, 2019 10am-12pm and/or 1pm-3pm
June 20, 2019 10am-12pm and/or 1pm-3pm
July 11, 2019 10am-12pm and/or 1pm-3pm
July 25, 2019 10am-12pm and/or 1pm-3pm
Cost: $25 per session
Linda will be available for consultation and assistance with the canvas of your choice. She has a great eye and can give you a stitch that will complete your piece in the perfect way. Bring in one canvas or multiples and take advantage of her talent. Call the store to register 630-946-6216.
"What's That" Succulents with Sandy Arthur


August 30- September 1, 2019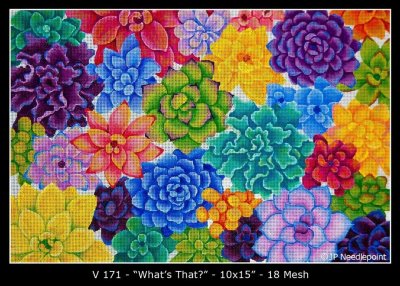 Join Sandy Arthur as she guides us through multiple techniques on this fabulous canvas. The threads, beads and embellishments have been pulled and the stitches are on their way. Cost to be determined. Ghost participants welcome. Call the store to get on "the" list for this amazing opportunity. 630-946-6216
Just a reminder, we have open stitching whenever we are open. Come anytime and bring any project! One of our favorite things is to see everyone's progress. I love when the back table is full! It makes my heart happy to see what a community of stitchers we have and how they support one and other. Here's to a quick Spring and much stitching time, Deb