Skip Navigation
Website Accessibility
Better Late then Never
Hello Stitchers!
It has been a whirlwind of activity at Stitchers Garden for the month of August and I am super behind in getting this out to all of you. My apologies! We had a great "Canvas Embellishment" class with Sandy Arthur at the beginning of the month. Check out our Facebook page to look at photos and check out some of the awesome new techniques the ladies and gentleman learned.
https://www.facebook.com//stitchersgardenil


She will be back in early September 2019 to teach the project class pictured below. More details to follow later in 2019.
We also had the pleasure of hosting Linda Corirossi for "Canvas Embellishment" on August 13th and it was such a success she is coming back for round 2 and 3. Check out our class list for the set of next dates.
TRUNK SHOWS:
Kate Dickerson as planted herself in the Garden until the end of August. She has so many different designs there is really something for everyone. There are tons travel pillows, Lily Pulitzer insprired designs and her newest artist Marin Devine does great graphic, modern faces and florals. Check out her website and give us a call to check our stock. 630-946-6216
https://www.katedickerson.com/
Kirk and Bradley is also represented this month with a mini trunk show. We have lots of travel rounds in stock as well as ornaments that could be stitched in time to take our next finishing class with Edie. Follow the link and then give us a call to check our stock. 630-946-6216
https://kirkandbradley.com/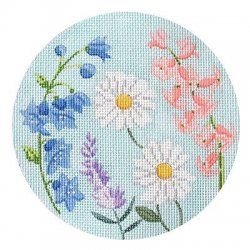 All in-stock trunkshow merchandise will receive a 20% discount.
In September we will be hosting Maggie Co.
http://www.maggieco.com/html/main_table.html
and Cooper Oaks in October.
https://www.cooperoaksdesign.com/

CLASSES:
"Canvas Embellishment with Linda Corirossi":
Do you have a canvas that you want to be a little bit more adventurous with? Linda will help you find a stitch for your canvas or just give you some guidance with what direction you might want to take.
Thursday, September 27, 2018 and Thursday, November 15, 2018
10am -12pm or 1pm-3pm
$25 per session.
Lunch is not provided.

"Finishing 101 with Edie Weilemann":
Edie is back for another round of ornament finishing. Since our Christmas finishing deadline has passed this is an opportunity for you to learn to finish your own pieces. Mini socks, round, oval, square, and rectangle are all options with the maximum size allowed of 6". You will also learn how to make cording which is a skill that always comes in handy. Canvases must be approved by the teacher no later than one week before class. All materials needed to complete your ornament will be provided (with the exception of cording threads).


Saturday, September 29, 2018 and Thursday, October 4, 2018


10am - 2pm
$60 per class
A lunch break will be provided.

"Libby Sturdy Tree #4":
Libby Sturdy will be back at Stitchers Garden to teach her Tree #4. Part of her eight tree series and measuring in at 3" x4" it would be a great quick stitch for Christmas. (There might be another finishing class with Edie after November 1st-wink, wink.) Easily framed, finished as a small ornament or made into a cute box standup this is a great chance to learn some fun stitches and work with multiple sizes of Kreinik.
Saturday, October 13, 2018


10am -

4pm


$100 includes class instruction, canvas and stitch guide
$58 Thread kit (optional)

Libby will also be bringing a trunk show featuring her designs. If you can't make the class, stop by for some shopping.

http://www.justlibbydesigns.com/index.html
Destination Dallas and Local Needlepoint Shop Day:

I will be at market September 14-17th. Destination Dallas is a "Cash and Carry" market which means lots of new canvases and accessories coming back in my biggest suitcase for everyone to enjoy. If you have a canvas that you have been thinking about, saw on Facebook or a website and you just can't live without it, now is your chance! Call the shop and we can discuss a special order. Some items will require a deposit depending on the cost and/or quantity. Watch Facebook for what is coming out as many of the designers are giving us sneak peaks.

We will also be celebrating "Local Needlepoint Shop Day" on Thursday, September 20, 2018 along with many of the stores across the country. All our market purchases will be out and ready to purchase. There might even be some surprise treats for our early arriving clients and a raffle for all who stop in that day to check it out. I am looking forward to shopping and bringing back lots of goodies.

As always, I want to thank all of our fantastic customers. This has been a whirlwind 9 months, but so much fun. I can't wait to see what the rest of 2018 brings and happy stitching! Deb