QUICK LINKS
A Little Snarky!

Americana
What's New!

Private Lessons:
Are you stumped with thread choice, stitches or just need a refresher? Do you want to learn how to needlepoint? Private lessons are available for $15 per hour. Between the staff you have access to over 40 years of needlepoint experience. Call the shop to set up an appointment time. 630-946-6216
Fridays with Deb:
Is timeline stitching not your thing? (It's not mine!) Coco is finished and only a few weeks behind schedule!
I enjoyed my Friday afternoons I am continuing to host "Stitching with Deb" on Fridays. My new project may change from week to week, but right now I am focusing on "What's that - Succulents!" which was a class we featured with Sandy Arthur. Stop in for some support, to check my progress, or just to sit and stitch.
WELCOME
We are a full service Needlepoint store with tons of thread lines and painted canvases to choose from. Our staff can help you select the best threads and embellishments to make your stitching vision a reality! Stop in to say hello, ask questions or sit and stitch any time-Tuesday thru Saturday from 10-5. Mondays hours are available for large group appointments (min. 4) if you and your friends would like an individual experience.
CLASSES:
"Canvas Embellishment"
with Linda Corirossi
December 5
10am - 12pm: $25 per class
1pm-3pm: $25 per class
Maximum of 8 students.
Join Linda Corirossi for a two hour canvas embellishment session. Bring in the canvas of your choice for inspiration or to finish up the area you are stuck on.

"Finishing 101" with Edie Weilmann
Check back for new dates.
10am - 2:30pm
$75 per session
Maximum 8 students
Bring your fully stitched basic ornament (no larger than 6" in diameter) to class and Edie will help you leave with a finished product ready to give as a gift.
All supplies are included except cording threads which will be purchased during class. A lunch break will be given. Please call the shop to register. 630-946-6216

My Latest Finish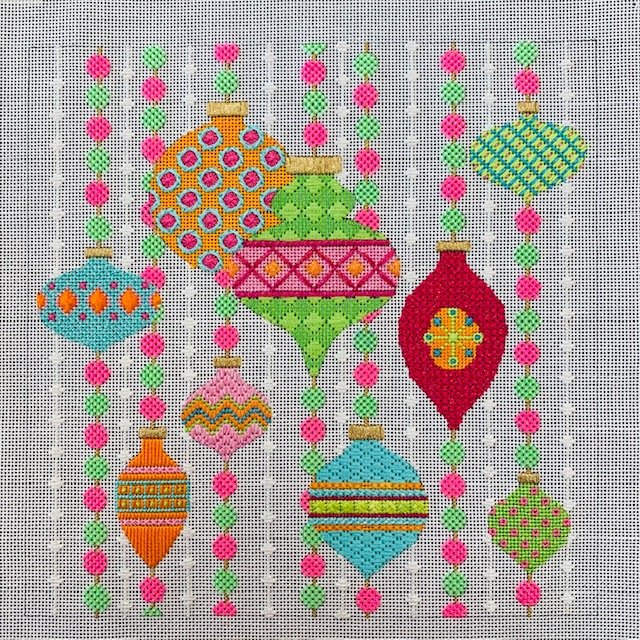 and my newest start:



Stay tuned for my progress!