WELCOME
We are a full service Needlepoint store with tons of thread lines and painted canvases to choose from. Our staff can help you select the best threads and embellishments to make your stitching vision a reality! Stop in to say hello, ask questions or sit and stitch any time-Tuesday thru Saturday from 10-5. Mondays hours are available for large group appointments (min. 4) if you and your friends would like an individual experience.
CLASSES:
"Canvas Embellishment"
with Linda Corirossi
July 9, July 23
August 6, August 20
10am - 12pm: $30 per class
1pm-3pm: $30 per class
Maximum of 4 students.
Join Linda Corirossi for a two hour canvas embellishment session. Bring in the canvas of your choice for inspiration or to finish up the area you are stuck on.

"Finishing 101" with Edie Weilmann
Check back for new dates.
10am - 2:30pm
$75 per session
Maximum 8 students
Bring your fully stitched basic ornament (no larger than 6" in diameter) to class and Edie will help you leave with a finished product ready to give as a gift.
All supplies are included except cording threads which will be purchased during class. A lunch break will be given. Please call the shop to register. 630-946-6216

My Latest Finish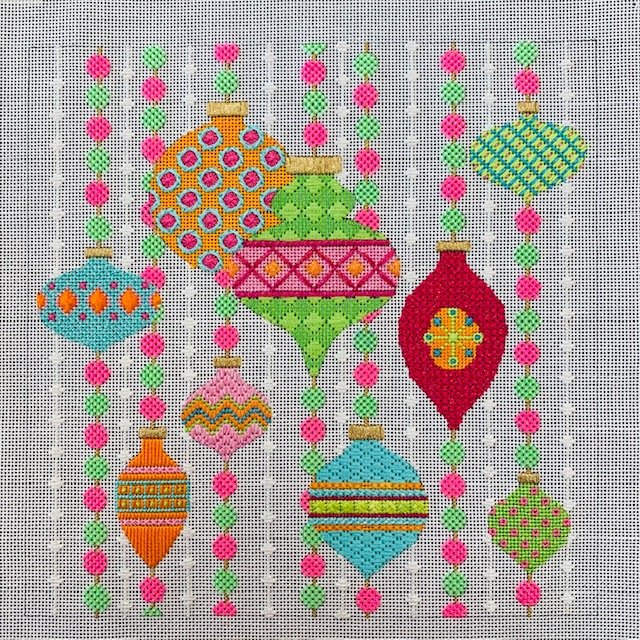 and my newest start:



And now its done!


Fridays with Deb:
Is stitching with a deadline not your thing? (It's definitely not mine!) Stop by on Friday afternoons while I host "Stitching with Deb". It started with "Everything Coco" from Kimberly Ann Needlepoint

and has moved on to "What's That?!" from JP Needlepoint. I took our class with Sandra Arthur from Duo Designs and loved it so much I decided to make it my next "deadline" project. I just finished succulent #5 and am now on to number 6.